On Board the Brand New Scarlet Lady from Virgin Voyages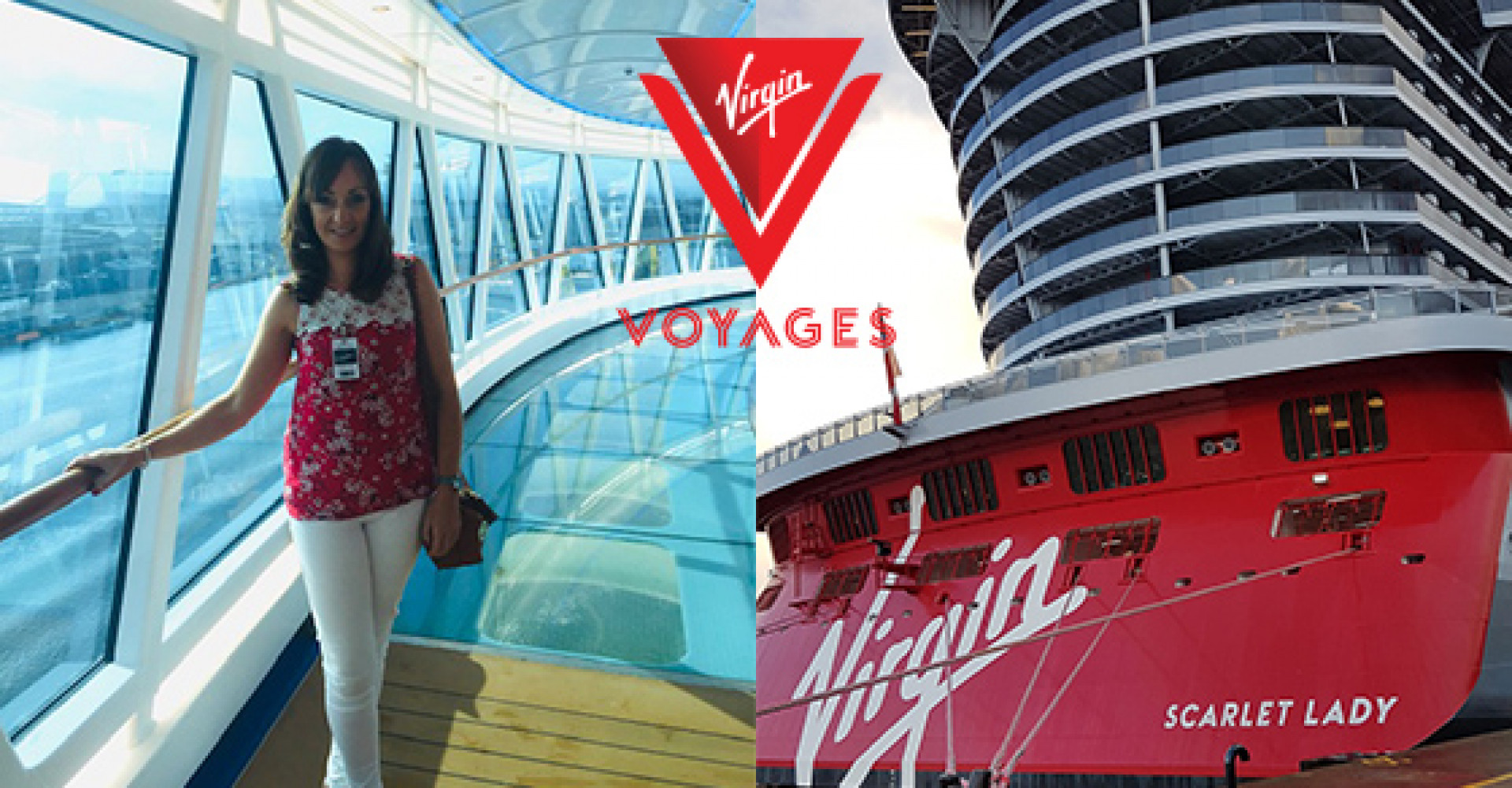 Earlier this week, our cruise expert Charlene was lucky enough to get an exclusive sneak preview of the incredible new ship from Virgin Voyages, The Scarlet Lady. Charlene travelled over to Liverpool docks to experience this brand-new cruising experience first-hand, and it looks like it set quite a good first impression…
Virgin's new 17-deck ship certainly has the wow factor from the first-time moment you see it docked port.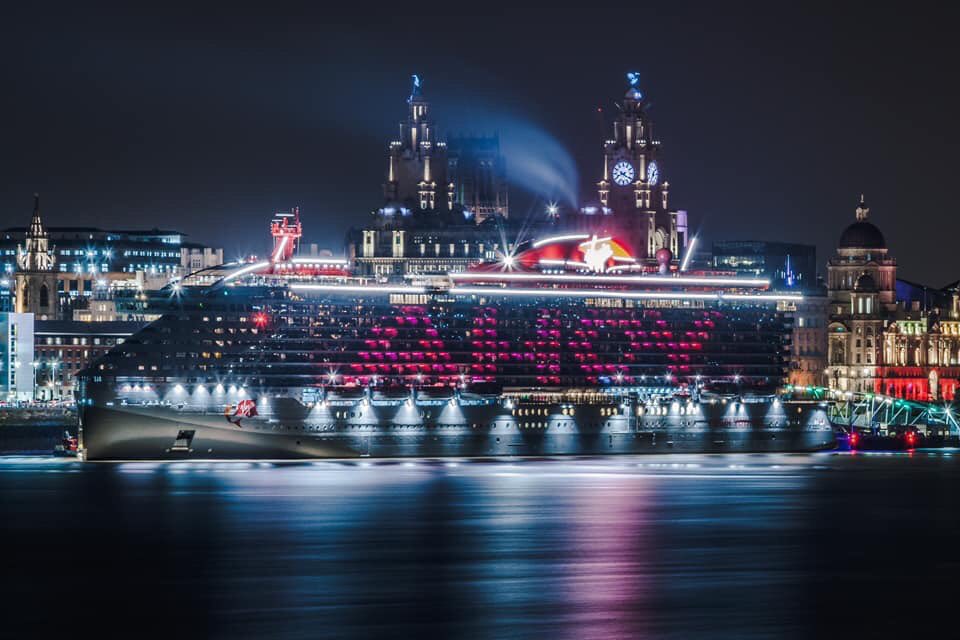 Scarlet Lady in Liverpool Docks, Photo by Dave Mort
The large red LED lights display welcome and farewell messages across the side of the boat. The extravagance and modern style does not end there though. The scarlet lady is bold in design with its striking red and white Virgin colours a constant theme throughout. There is a minimalist and modern interior design style in the common areas and cabins. This ship really does have a state of the art and very trendy feel to it.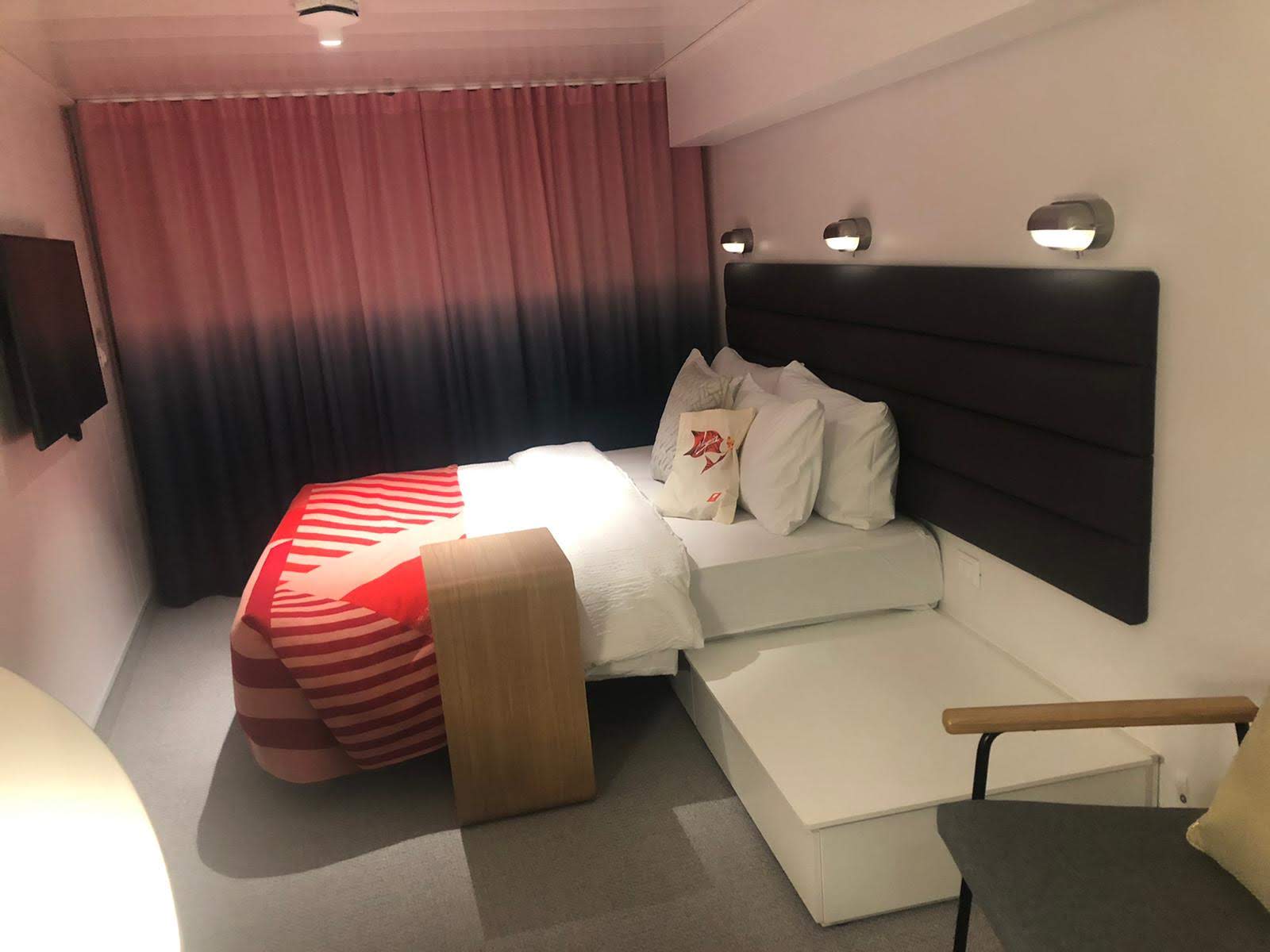 My cabin on board the Scarlet Lady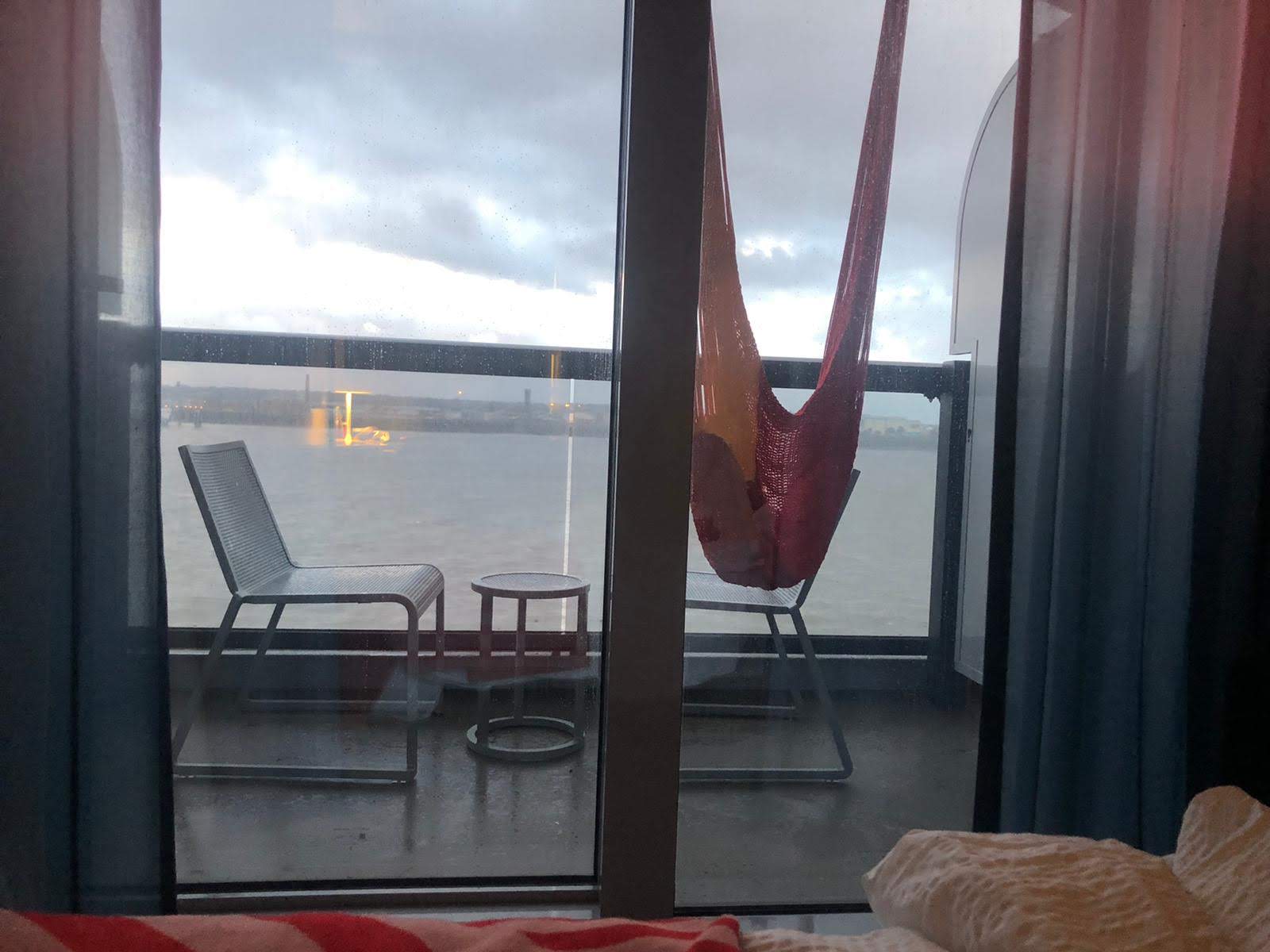 My balcony view <Insert Caribbean sunshine here>
The outside areas are furnished with hot tubs and cool cabanas, perfect for relaxing on this 'Adults Only' playground at sea. There are loads of outdoor daybeds, so you catch some Caribbean sun. although they weren't particularly ready for use on a cold, rainy, February day in Liverpool!

Virgin have completely revolutionised the cruise dining experience onboard the Scarlet Lady with no buffets in sight! There are more than 20 eateries and restaurants onboard - from Brunch Bars to Swanky Restaurants run by Michelin Starred Chefs. Food is all freshly made to order, meaning no waste.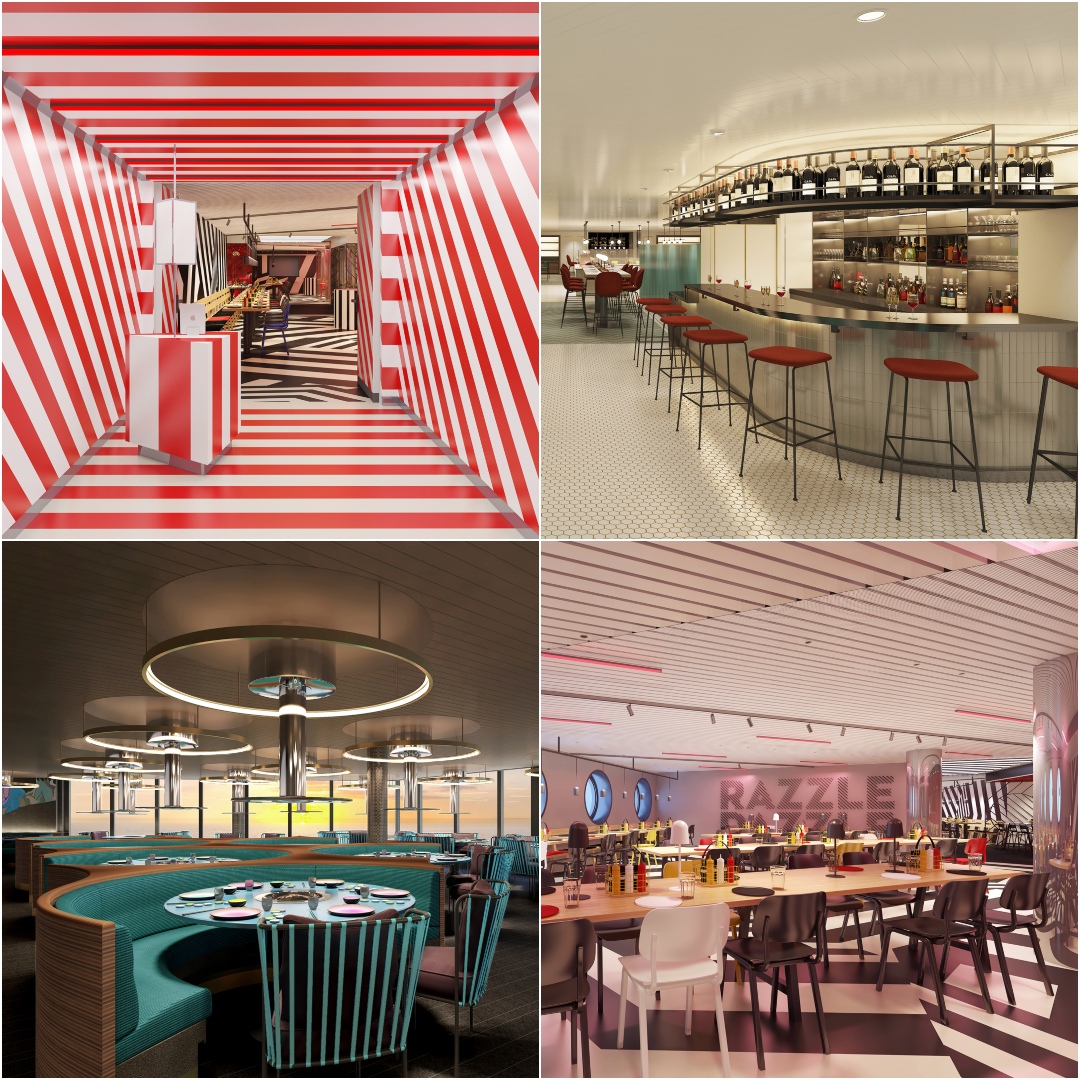 Just a few of the many restraurants on board the Scarlet Lady
I was lucky enough to get a place in the incredibly tasty Mexican restaurant 'Pink Agave'. We were able to choose the amount of courses we wanted (yes, as many as you like!) and were advised perfectly by or own waitress, Ana, who encouraged us to sample and share our food round the table. All food, and gratuities, are fully included in your cruise fare! As for drinks, the onboard motto is 'only the best brands for the best people'. You pay for what you drink and if you don't drink – water, soft drinks, tea & coffee are all free.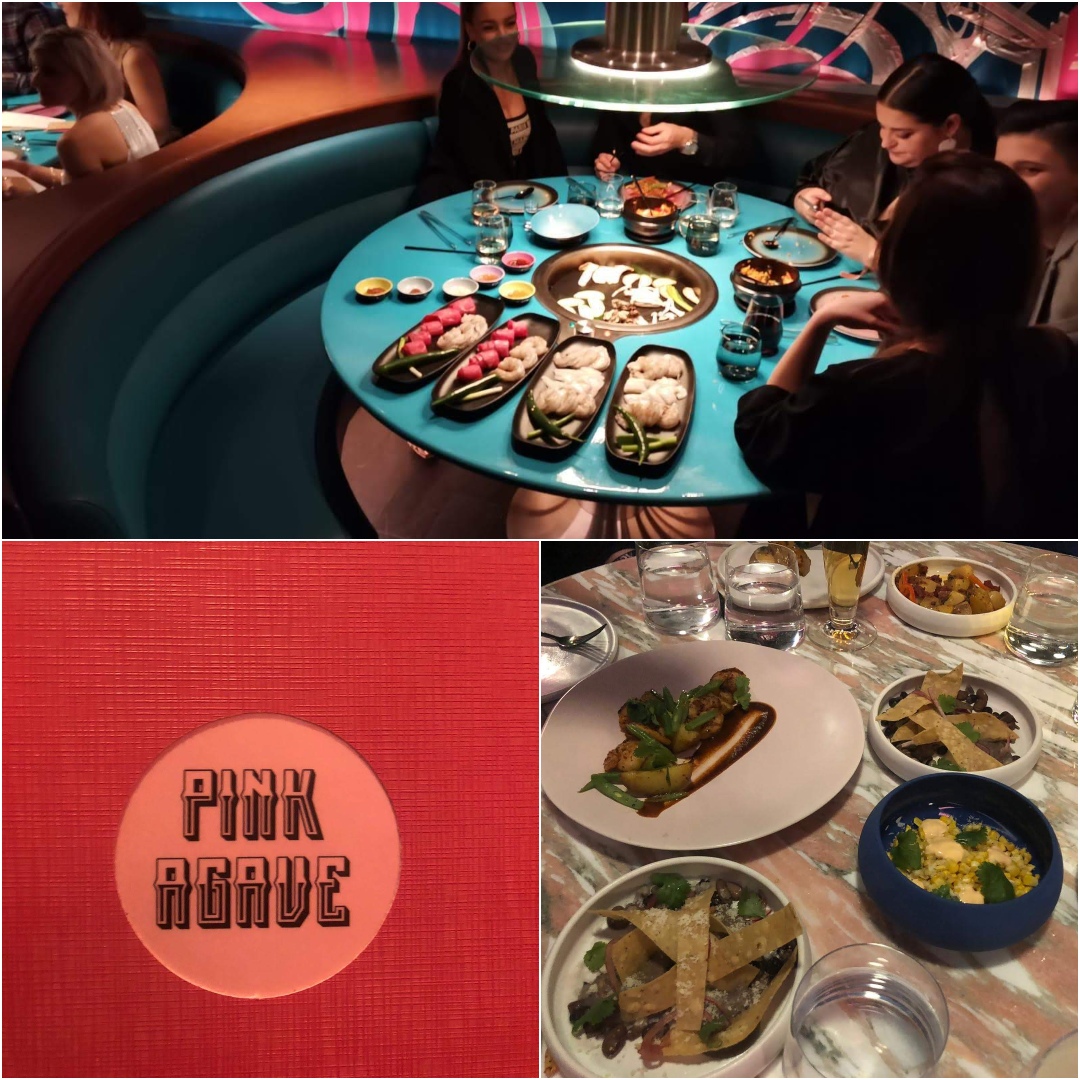 Our meal at Pink Agave
One of the main aspects Virgin has tried to incorporate on the Scarlet Lady are its "Well-being" offerings. Whether you want to sweat or chill, it's up to you. If you're up for a bit of self-pampering this hip ship has got the lot. Try 'Dry Dock' for a blow dry or even 'Squid Ink' for tattoo reminder of your fabulous cruise!! The Redemption Spa is a haven of tranquillity and self-preservation. Get dirty in the mudroom, let the sauna cleanse you, or spend an entire afternoon floating from hot stone massage to seaweed wrap.
If you're not one for sitting around all day, there is a state-of-the-art gym onboard as well as a running track and boxing ring! You can then rest your mind and body with sunrise and sunset yoga at "The Perch". Don't forget to treat yourself post-workout with a fresh pressed juice from one of the juice bars on deck.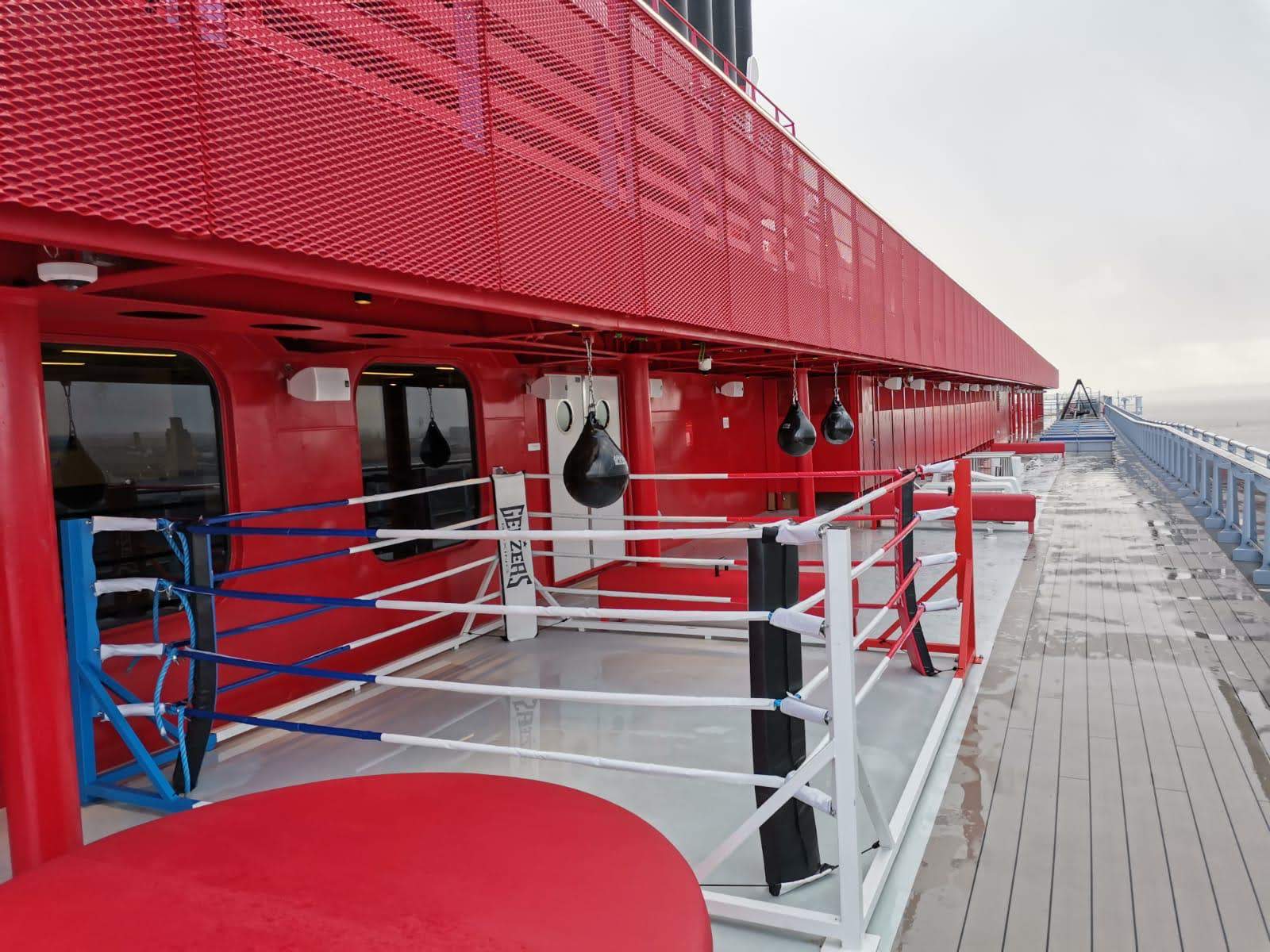 Boxing ring onboard the Scarlet Lady
Virgin have really upped the game in the entertainment department too. The "Red-Room" is moving away from classic Broadway productions, with the entertainment onboard more akin to a festival line-up. Expect immersive, contemporary shows developed by world-famous producers, choreographers and directors. We were treated to an incredible, Romeo & Juliet inspired, acrobatic show during our stay!

Our view of the acrobatic show & partying in the nightclub later that night
To conclude, my 24 hour stay on the Scarlet Lady definitely had the WOW factor. This is the best new cruise for adults, young or young at heart. The Scarlet Lady is a wonderful ship with delicious food (not a buffet in sight), friendly and helpful staff, amazing entertainment and nightclub to end the night. This trendy and state of the art ship is new-age cruising and a foodie's paradise.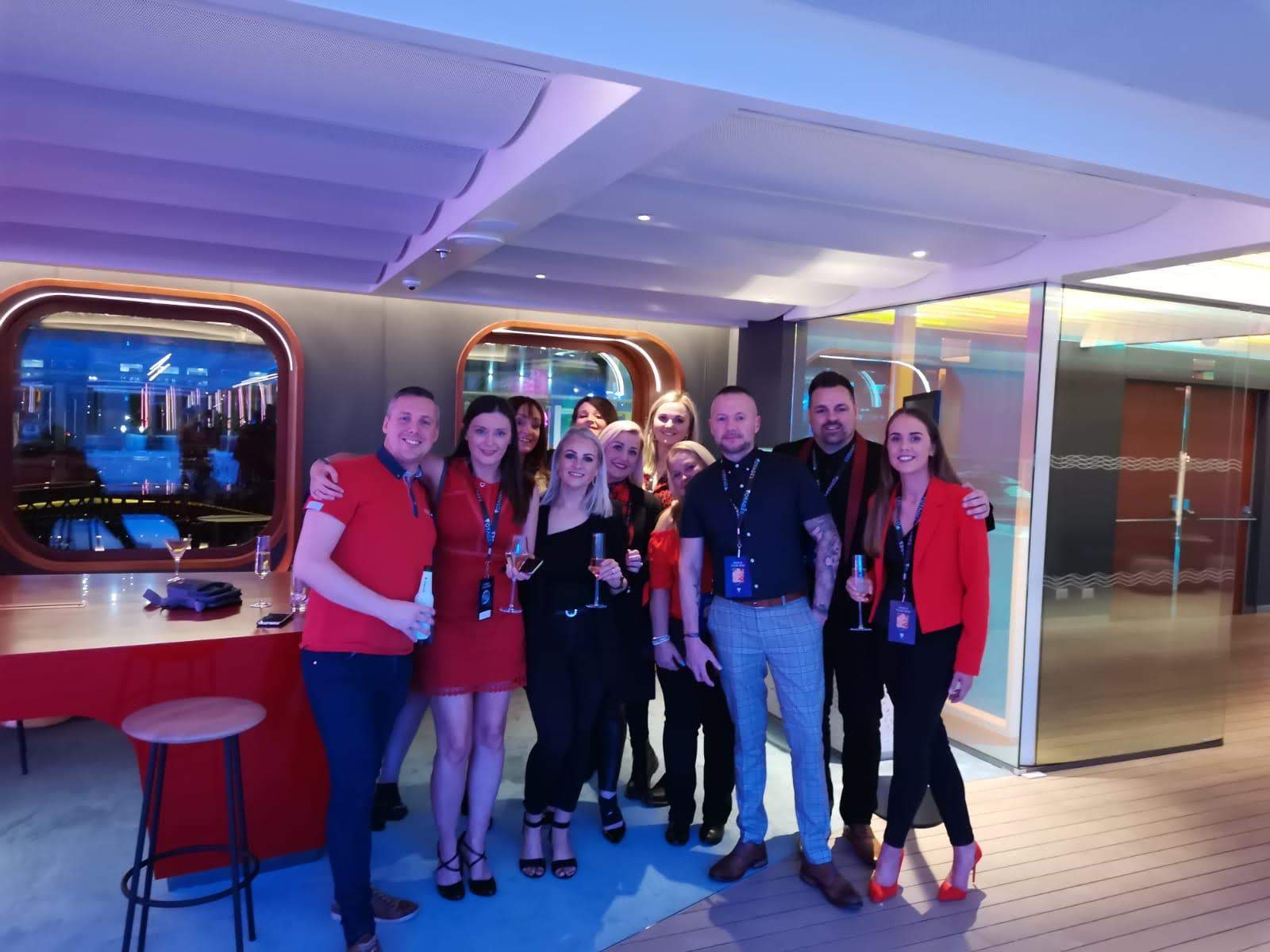 Scarlet Lady Features
- Adults Only Cruise Line
- Buffets are banned. More than 20 eateries onboard - from Brunch Bars to Swanky Restaurants run by Michelin Starred Chefs
1330 Cabins & 78 Rock Star Suites - with chic and modern interiors
- Major focus on wellness; with spas, gyms, yoga and wellness pools and even a mud room onboard - plus beauty treatments
- Moving away from classic Broadway productions, the entertainment onboard is more akin to a festival lineup, with immersive, contemporary shows developed by world-famous producers, choreographers and directors.
- Wifi, Gratuities, Group fitness classes & "basic bevvies" are included in your cruise fare
Things to do on board
- Enjoying the view with some peace and privacy in a tranquil cabana.
- Going for an invigorating dip in the cold plunge pools
- Making new friends and sampling a number of themes and music styles at the various nightclubs, such as The Manor, as well as onboard parties.
- Relaxing in the sun on the largest lounge bed at sea.
- Participating in a range of fitness sessions to get your blood pumping at the modern gym, running track or training camp.
- Mind and body in perfect harmony with sunrise and sunset yoga.
- Hot tubs set just right to ease those tired muscles.
- Treatments at the Redemption Spa and a manicure and pedicure at The Tune Up salon.
- A visit to Stubble & Groom, the onboard barbershop.
- The juicery program where you can grab a clean and healthy juice.
Charlene's Top Tip
The Scarlet Lady will be sailing from Miami from 1st April 2020 doing 4 & 5night sailings, calling in at Virgin's own Bimini Beach Club – perfect for the sunny beach day, chilling listening to world class DJ's. Ideally you can pre-night in Miami, or extend your stay in Florida once ashore again, with daily flights there are endless possibilities…
Speak to Charlene and the team about cruising on board the Scarlet Lady
Contact us today:
028 6632 4477
This email address is being protected from spambots. You need JavaScript enabled to view it.
Send us a private message on Facebook