Lisa's African Adventure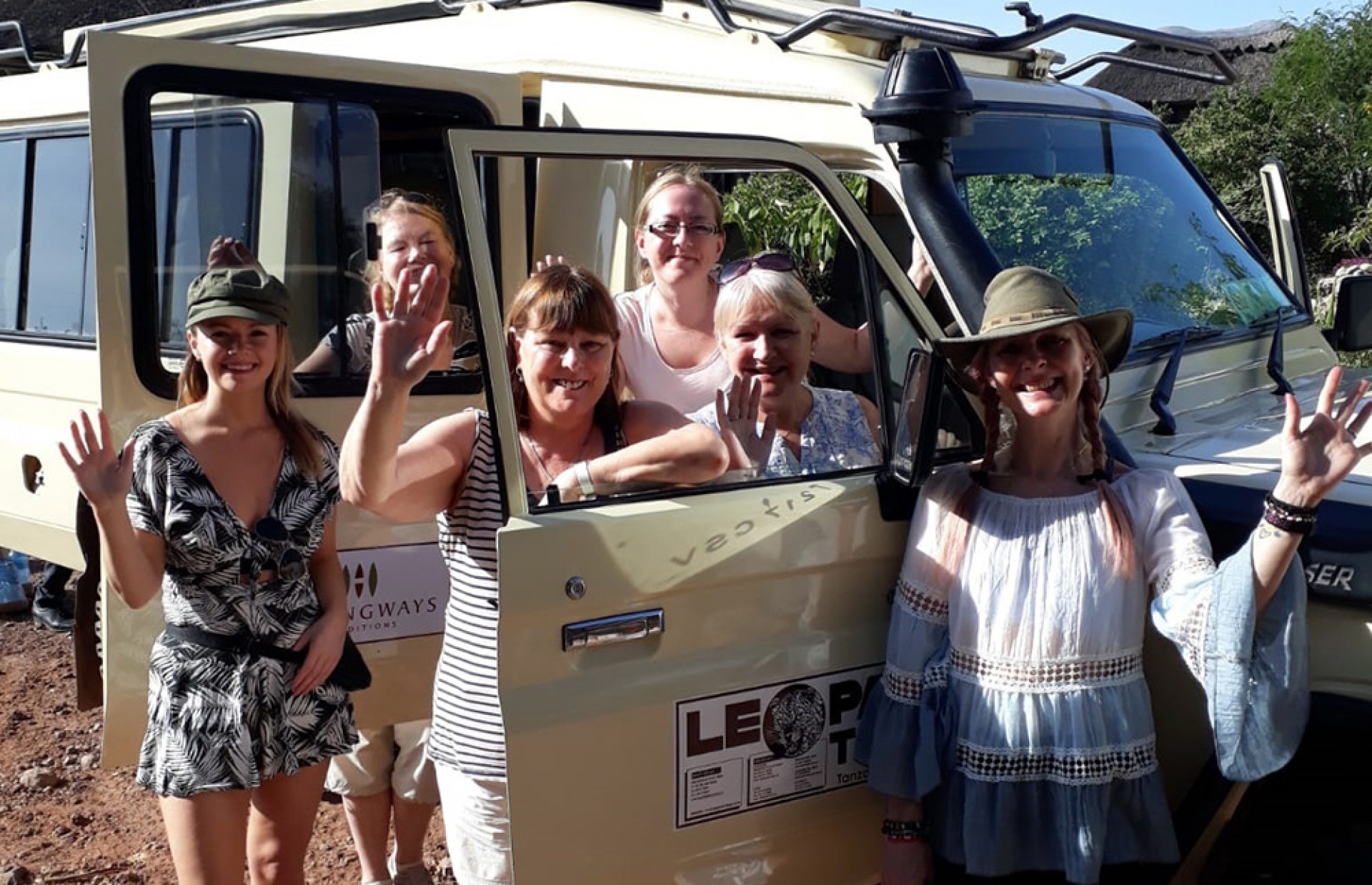 Earlier this year, Erne Travel manager, Lisa McNulty, went on wild adventure to Africa with one of our trusted suppliers – African Pride. Here is Lisa's travel diary from her six days exploring the African bush.
DAY 1 – Away We Go!
I met David from African Pride at London Heathrow Airport, along with some other travel agents ready for our group trip to Tanzania. We were all full of excitement for the adventure ahead.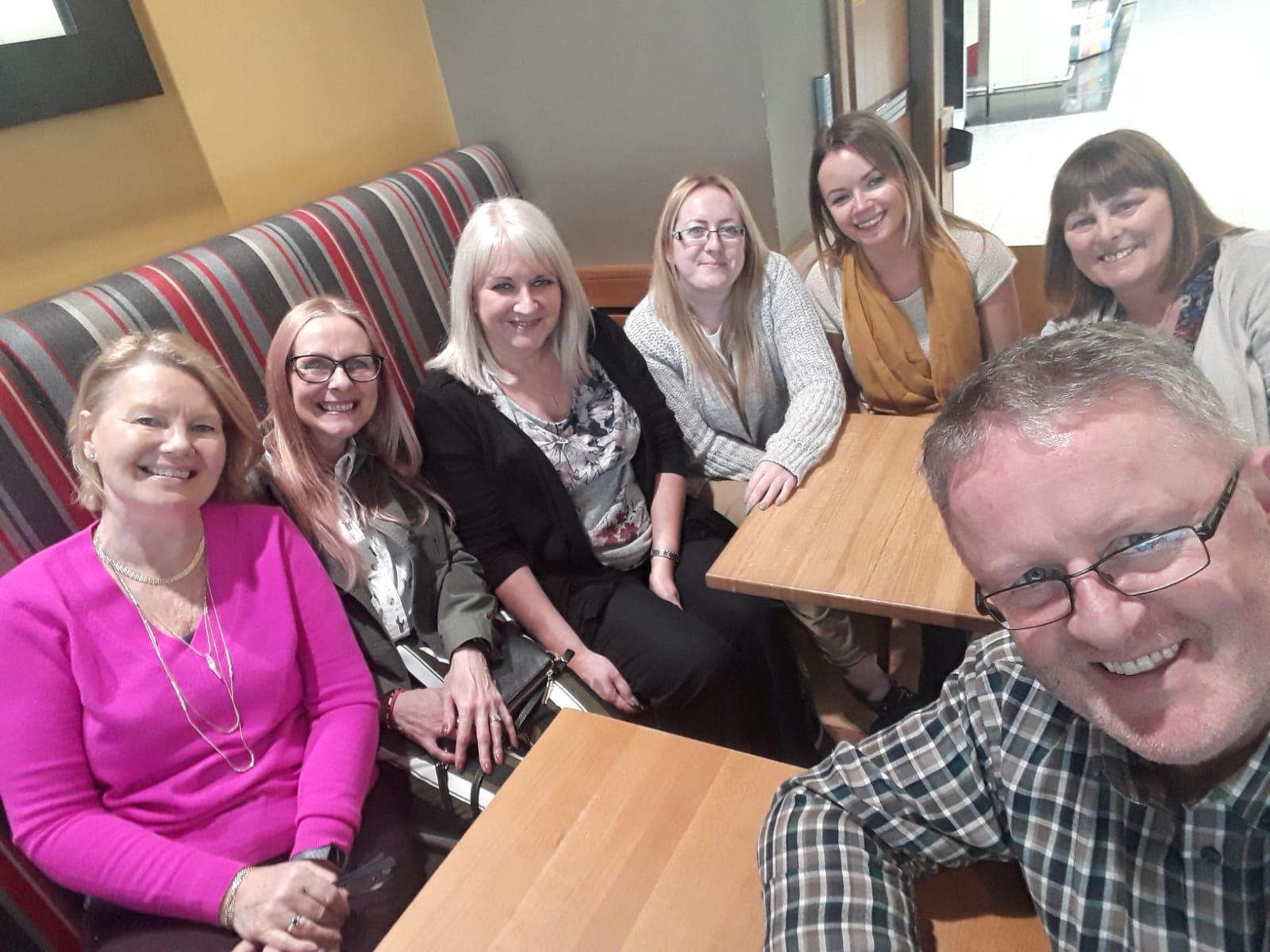 We flew with Kenya Airways for the eight and a half-hour flight. The entertainment and food onboard was good, and kept me entertained for most of the journey, watching many recently released movies and TV shows. Once we arrived in Nairobi we had another one-hour flight to Kilimanjaro where we were introduced to our guide Mau, and vehicle for the rest of the trip.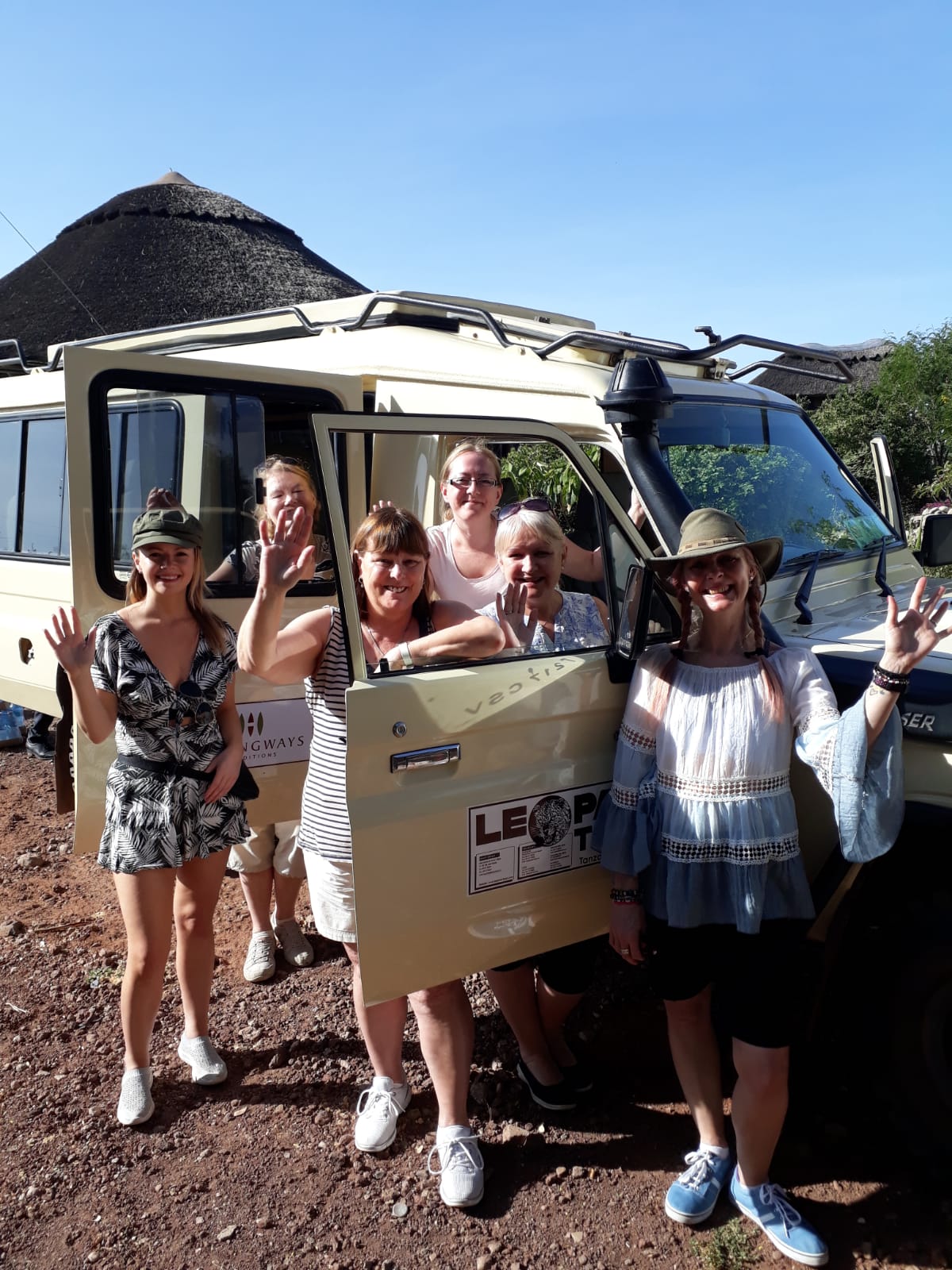 Mau gave us a short introduction to his home country of Tanzania and explained that the country's main industries include agriculture (roses, coffee, and cashew nuts), mining tanzanite, and tourism. There is population of 55 million people in Tanzania and 120 different tribes. We had a 45-minute drive to our first destination, Tarangire National Park, so it was great to learn more about Tanzania along the way!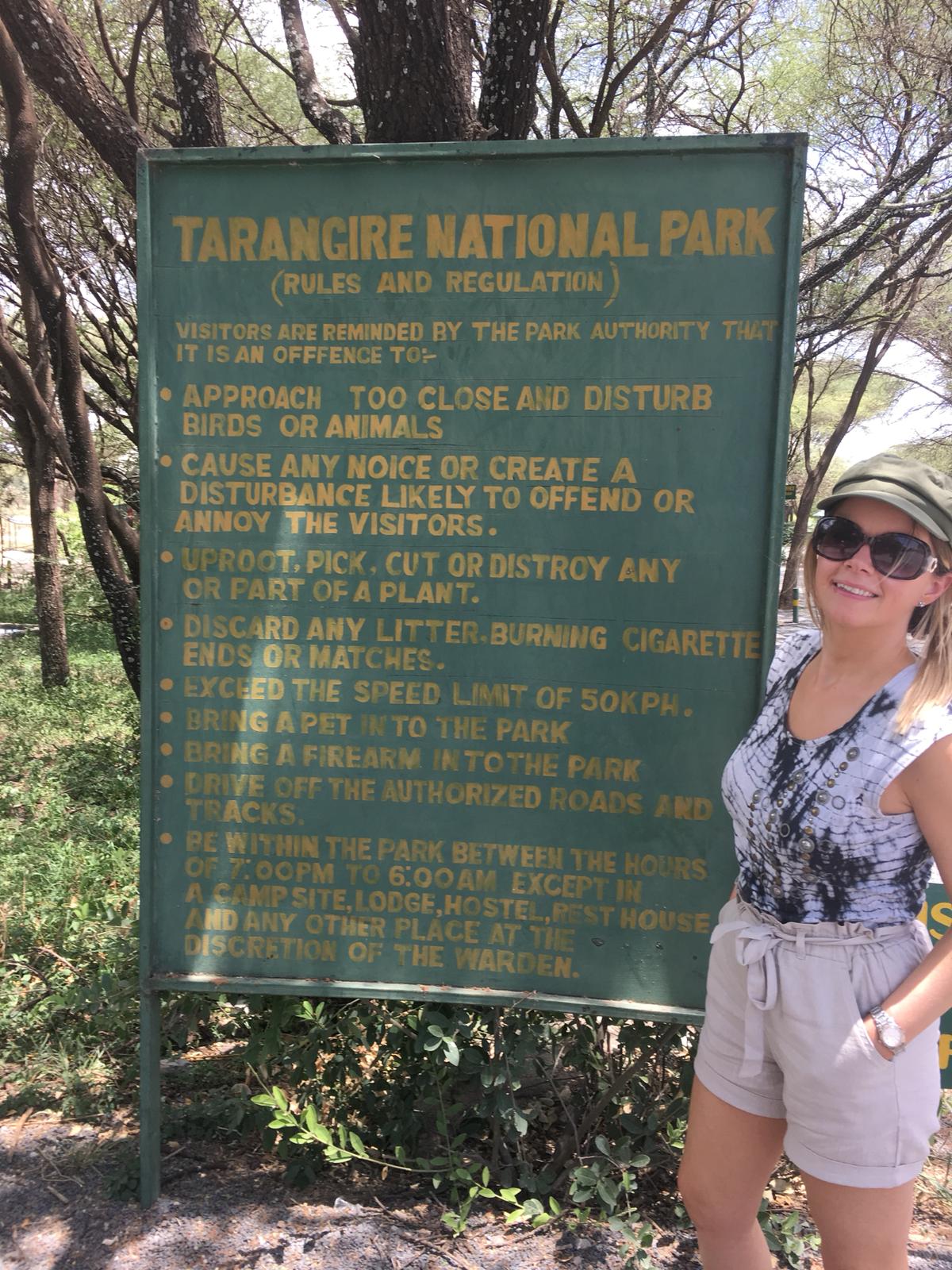 As we arrived into Tarangire National Park we got our first glimpse of wild Africa and had sightings of beautiful impala, ostrich, giraffe, elephant, and waterbuck. We had a BBQ lunch in the national park and then enjoyed another game drive along the way to Maramboi Camp where we were shown around the accommodation types and facilities.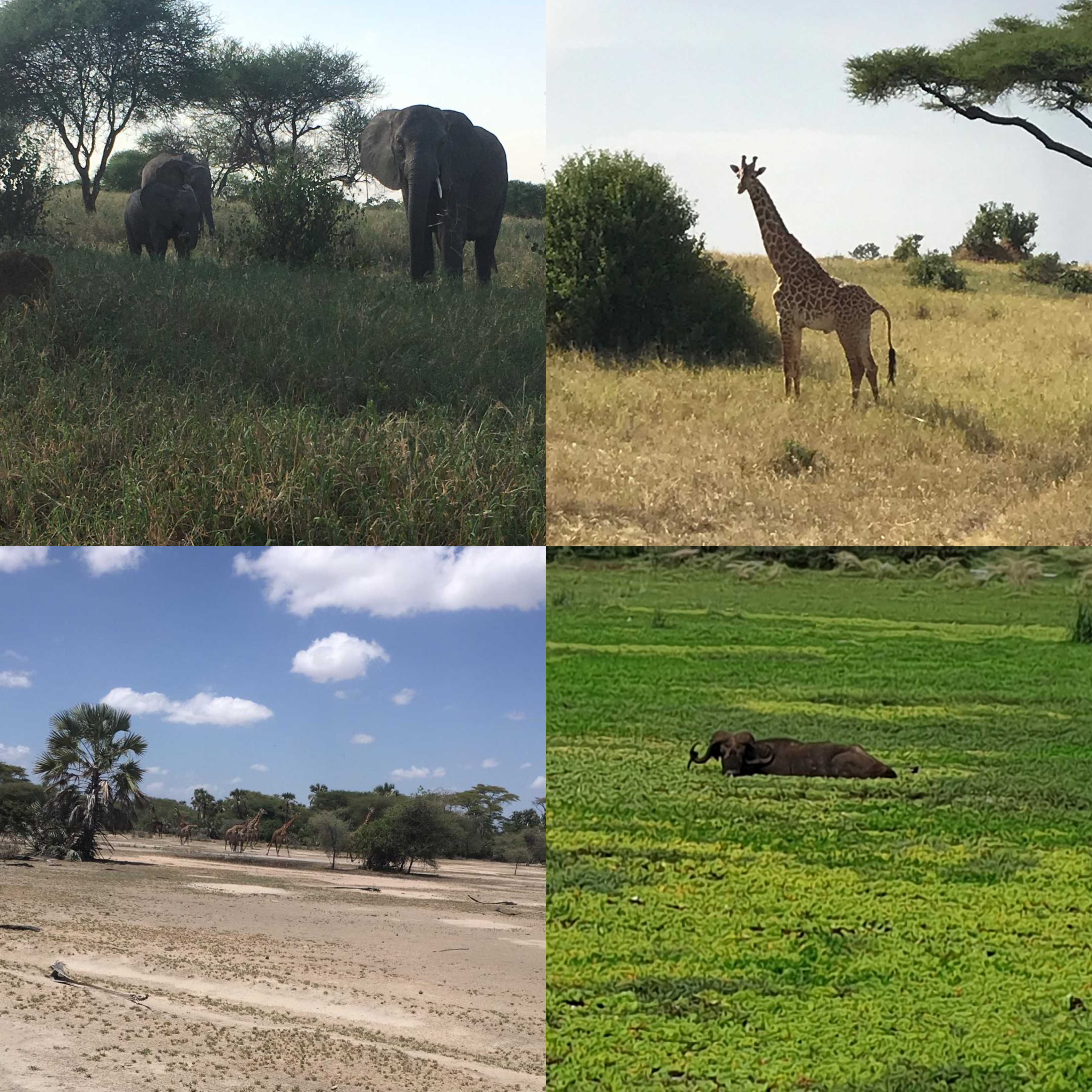 Maramboi Camp is based outside the national park, but it is a very good standard tented lodge with permanent luxury tents. Situated on a palm tree populated plain close to Lake Manyara with magnificent views of the Rift Valley in the background, the camp features 44 suites with interconnected rooms, ideal for families with children. The camp has electricity from the main electric supplier, solar panels and a generator as a backup. They offer activities such as game drives in Tarangire National Park, guided nature walks, and use of the swimming pool.
The swimming pool was looking over the Rift Valley where the animals freely roamed. Drinks and meals are included. The lodges feature nice neutral colours with fantastic views in all. We then headed off to our night's accommodation at Mbali Mbali Tarangire River Camp.
Mbali Mbali Tarangire River Camp is a tented accommodation and the camp was not fenced therefore you had to be escorted to and from your tent. If you needed to contact reception or had a problem, you had a whistle and a light beside your bed to attract attention! The tented accommodation gives an amazingly authentic safari feel to your stay and enables you to feel at one with the natural habitat which I really loved.
There was a fully equipped bathroom, hot water, and a toilet that flushed. The staff also set up mosquito nets over the beds at night.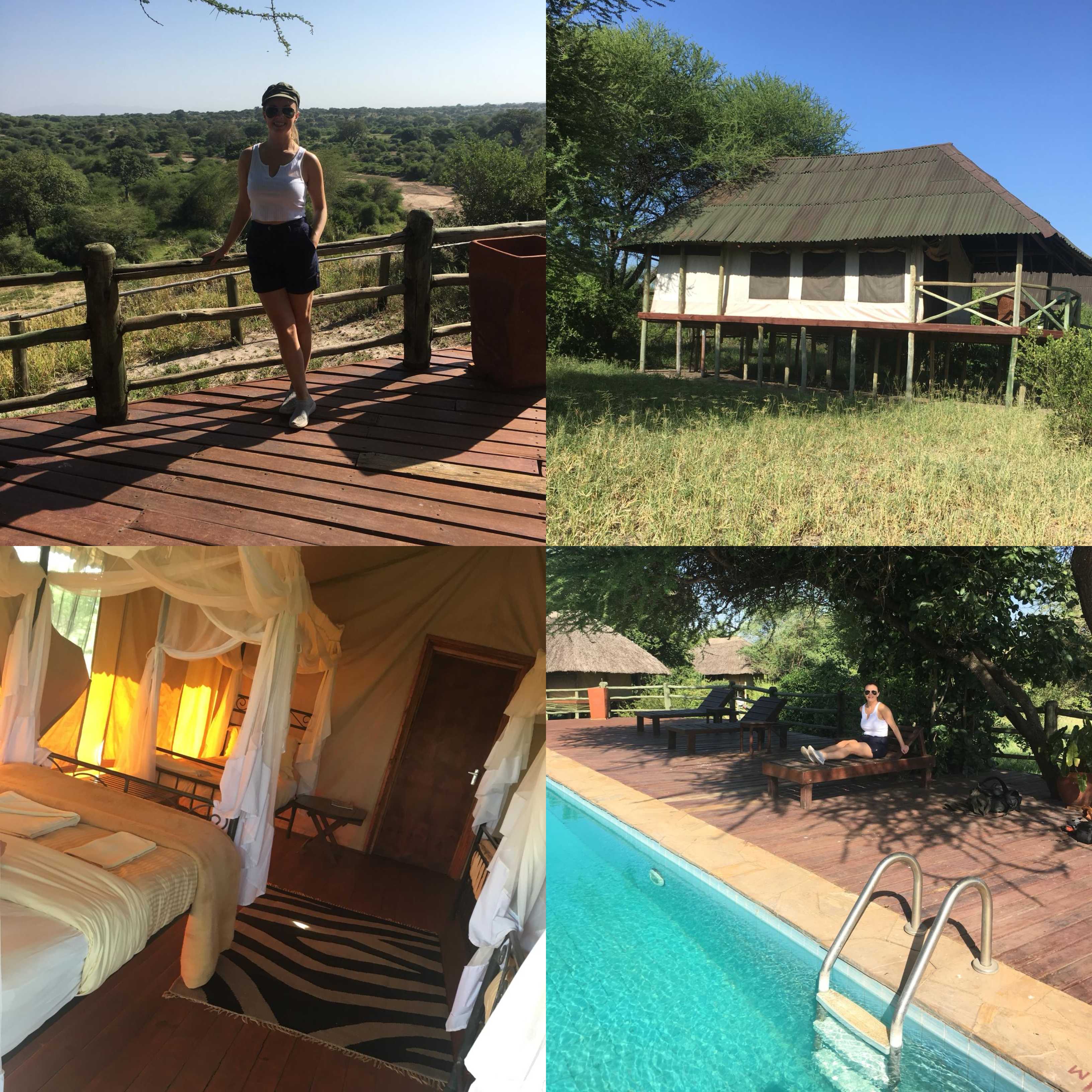 DAY 2 - Lake Manyara
We woke up for breakfast at 8am and left at 9am for our next destination, Lake Manyara, a two-hour journey away. We passed many local villages along the way and Mau explained that these villages in the area were able to thrive due to being in the catchment area of the water which flowed out from the forests.
We had another game drive through Lake Manyara in which we saw baboons, hippos, more elephants and flamingos to add to our ever-growing list.
Lake Manyara National Park is one of Tanzania's smaller and most underrated parks. While it may lack the size and variety of other northern-circuit destinations, its vegetation is diverse - ranging from savannah to marsh to evergreen forest (11 ecosystems in all) and it supports one of the highest biomass densities of large mammals in the world. The chance to see elephant families moving through the forest or Lake Manyara's famous population of tree-climbing lions are alone reason enough to come!
Lake Manyara is located in the east and covers one-third of the park. The lake shrinks considerably in the dry season, but during the rainy season it hosts millions of flamingos and other bird life.
After our game drive through Lake Manyara we visited the Escarpment Luxury Lodge for lunch and a tour of the facilities. The lodge was beautiful and the most luxurious of all the properties we saw. All rooms are in stand-alone cottages, with king- and queen-sized beds, a walk-in shower, soaking tub, and wrap-around balcony with outdoor shower (we should consider here how precious a commodity water is in Africa!) The common areas were similarly spectacular with fantastic views of the valley from the pool and luxuriously furnished sitting area. This serene haven offers 16 luxurious chalets, with single, double or triple occupancy.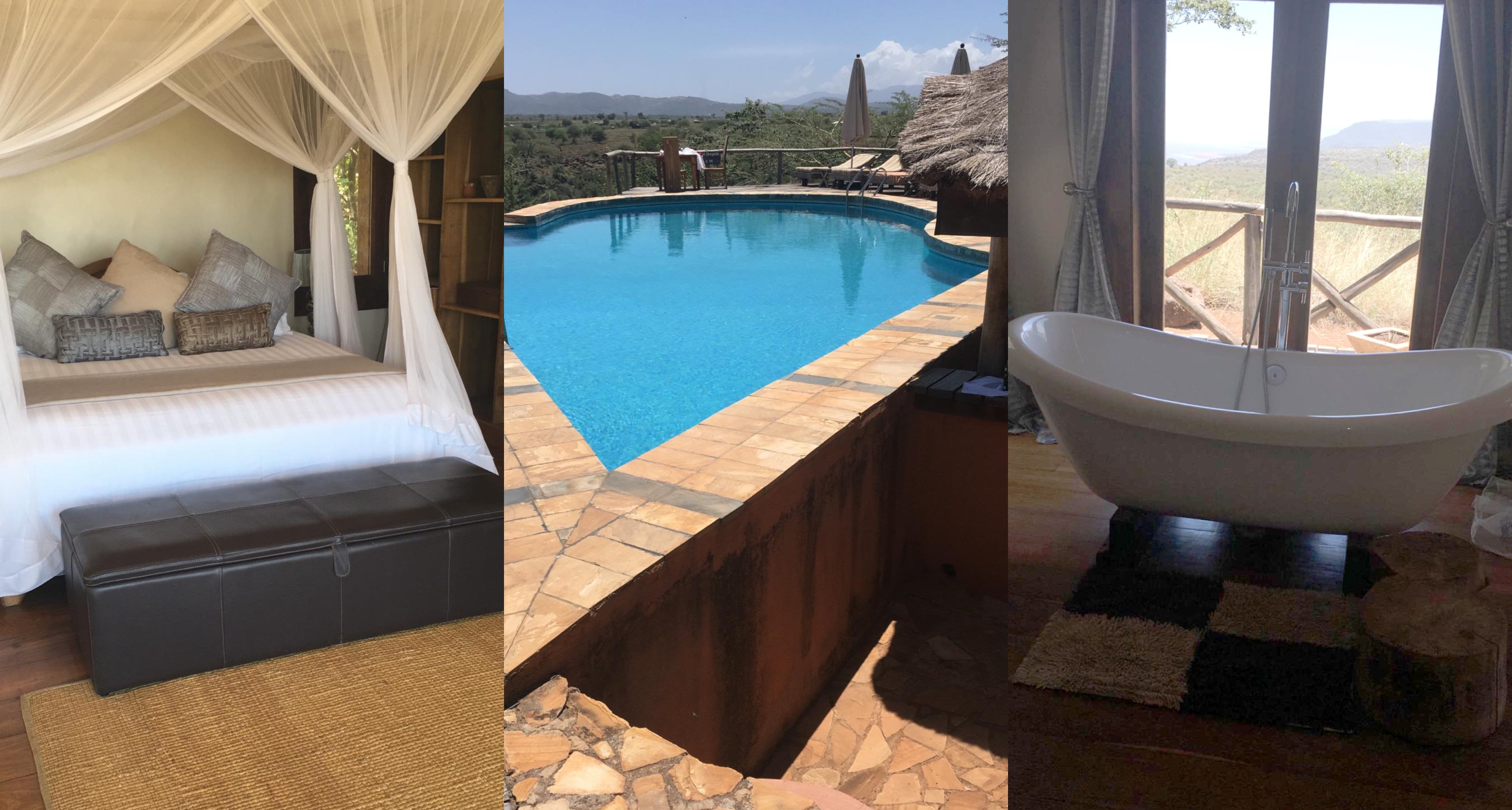 We stayed overnight at Lake Manyara Wildlife Safari Camp in some tented lodges ready for our long journey to the Serengeti the following day.
Day 3 – En Route to the Serengeti
After a quick breakfast we headed off on our six-hour drive to the Serengeti. Along the way, we stopped off at the Ngorongoro Conservation Area. There is a viewpoint area with a built-in pavilion that offers majestic 180° views of the crater. Take binoculars to make the most of this amazing view!

Six hours of bumpy dirt roads later we arrived in the Serengeti, famous for its beautiful green rolling open plains. The landscape can be seen for miles with huge stone boulders that are iconic as the look out spots of lions, and hundreds of beautiful gazelles peeping from the grass mounds to get a glimpse of what's ahead.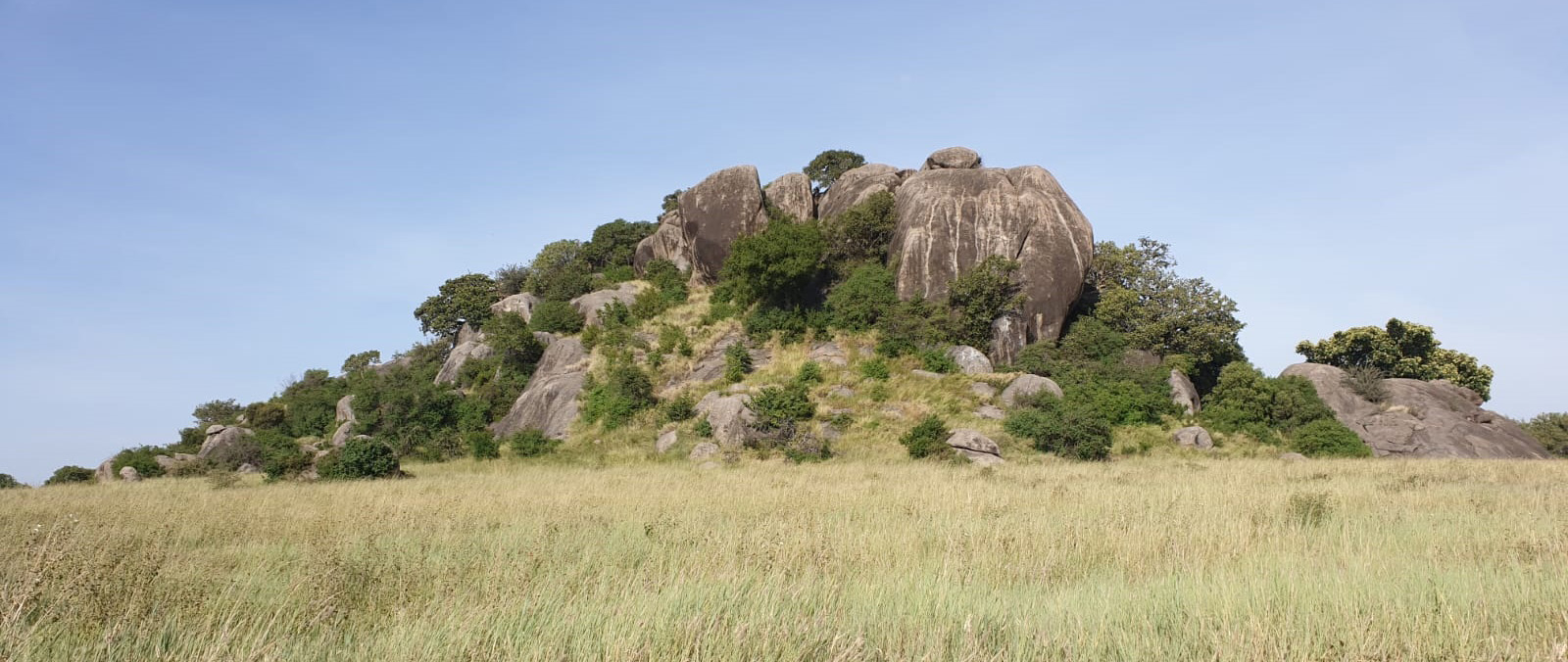 We were lucky enough to get our first sighting of a lion upon entry to the plains and a little later saw another lion resting next to her fresh zebra kill. We really felt immersed in the wildlife scenery, so much that a lioness strolled slowly past our vehicle without batting an eyelid at us!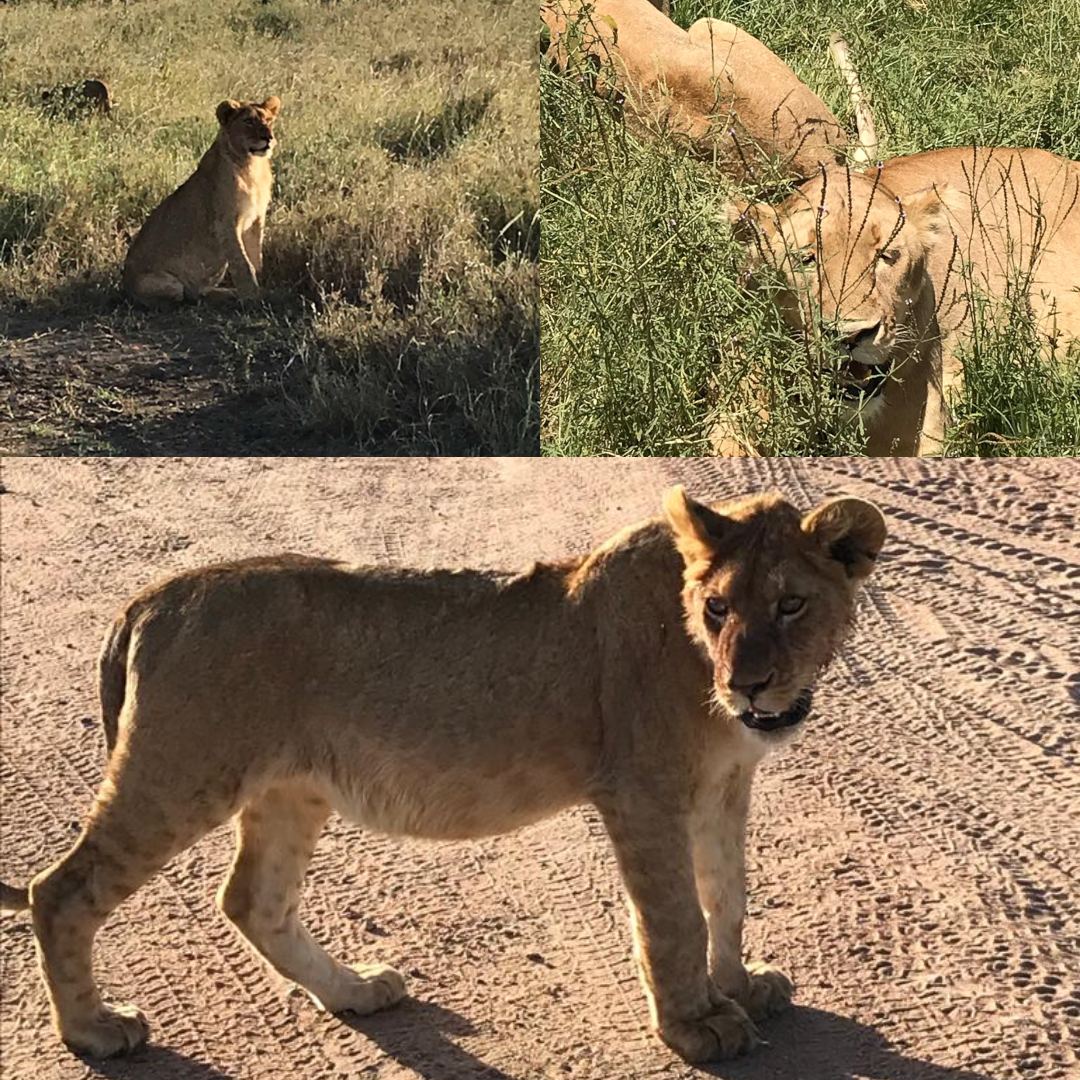 We carried on driving through the dirt paths, admiring the Serengeti with its mountains in the distance and scattered single acacia trees so clear to see in the distance. My favourite sighting so far was watching the wildebeest and zebra gather in their hoards around a watering hole. Zebra are so plentiful here you can see all the different stripe patterns on each. As we drove to our next stop we drove alongside the wildebeest in their single file marching along. This is nature in its truest form. Well worth the six-hour drive!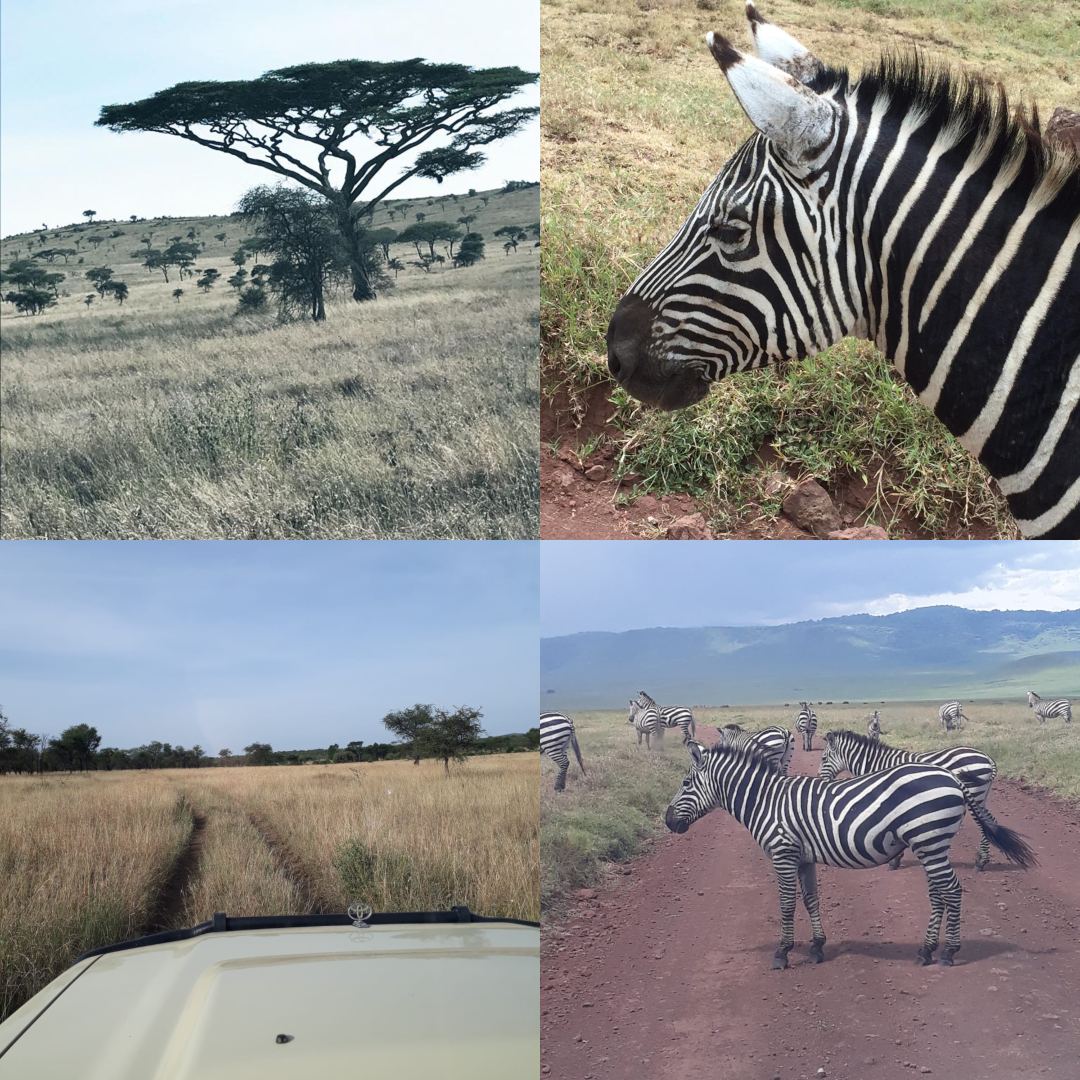 We had lunch at Kati Kati which is a mobile camp in central Serengeti. The camp offers comfortable accommodation together with the unique opportunity to enjoy a real safari experience from the lodges.
We stayed overnight at Nimali Camp and were greeted into camp by such a warm welcome ? We had a little attack from pesky tseste flies, so we got sprayed down as soon as we arrived. The camp was very luxurious and the facilities were superb. Our tents for the night were extremely well finished off and all solar powered. You had great lighting, fans, a luxury bathroom with double sinks, very nice showers, and soft towels. Tea and coffee was delivered to the room on request, which is lovely if you want to watch the sunrise early. The evening meal was fantastic: I had soup and beef, and there was an excellent menu choice. The staff were very attentive to allergies. The food and wine was served very professionally, just like in a five-star hotel. Our breakfast was equally great with very good produce – eggs benedict was on the menu. Apparently, there were lions roaring throughout the night but the comfort of the beds and the activities from our first day in the Serengeti had me out like a lamp!
Day 4 – Serengeti V2
As usual we started off the day with another stunning game drive and saw plenty of impala, water hogs, kestrels, vultures, and elegant ostriches in the distance. We also had our first sighting of hyenas this morning. The female hyena is dominant and strong and they are clever but ruthless hunters. During a kill, unlike other animals who try to kill the prey quickly, hyenas are known to cause animals a slow and painful death. They eat all parts of the animals including bones. Don't mess with the hyenas!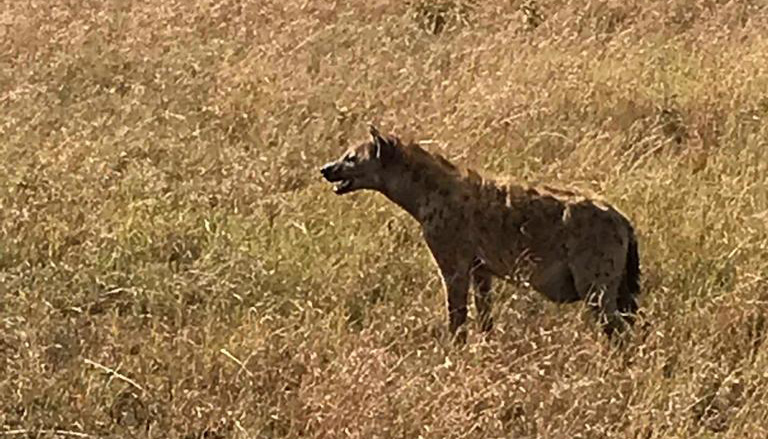 Although we had already seen some amazing wildlife, we had our eyes peeled for something greater - leopards and rhinos. The rhino is extremely rare due to poaching so the national park rangers try and keep their sightings private as they are in danger of becoming extinct.
We were lucky enough to catch another lion sighting as well as spotting a leopard in a tree and the most spectacular cheetah chase and kill! Cheetahs are active during the day and have a black tear drop look under their eyes; they are the fastest animal in the world but can only hold speed for a short space of time.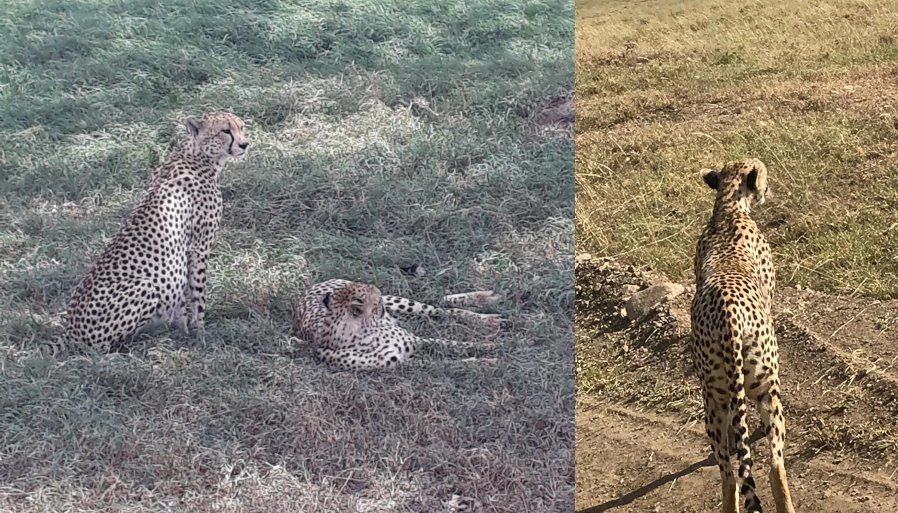 We had lunch at Kubu Kubu Tented Lodge and were greeted with a welcome glass of prosecco which always goes down well! We had a lovely lunch at the lodge next to stunning views and a great swimming pool. This is a good standard lodge with luxurious and large spacious tents.
The camp is located in Central Serengeti on the slopes of a hill with fantastic views and it is the ideal starting point to visit the Great Plains at any time of the year. The camp consists of 25 luxury tents with en-suite bathroom. Each tent is a built on a wooden platform. The main house caters with a terrace, restaurant, lounge and swimming pool.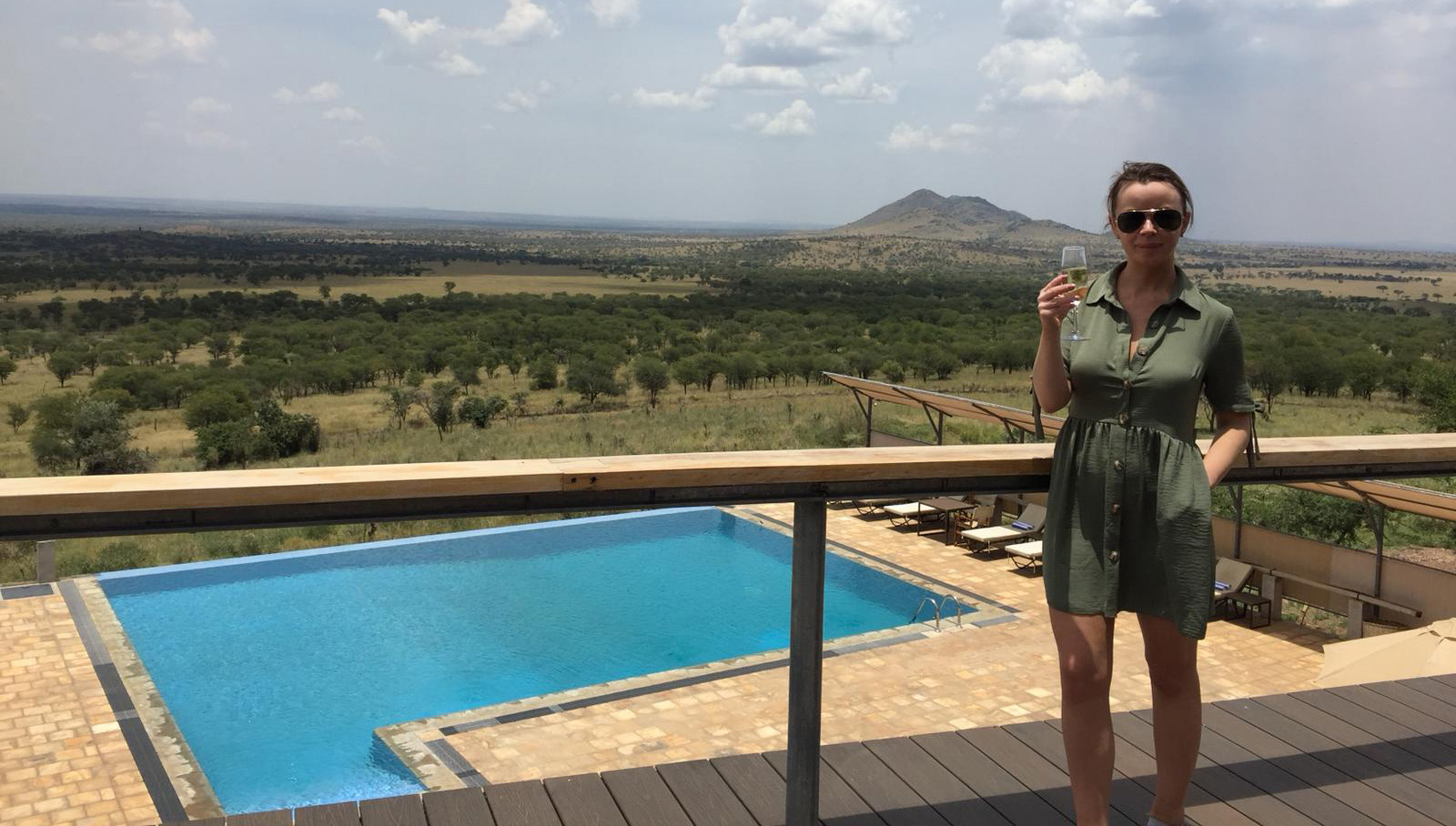 We stayed overnight at Serengeti Sopa Lodge. This is an elevated lodge with great views from the rooms. This was the first hotel we had stayed in, and it felt a bit strange being disconnected from Africa's wild side for once. There was lots happening at the hotel and seems it can get quite lively at night time. There are 73 rooms including adapted and interconnecting. The rooms included large beds and a large shower.
Day 5 – the Journey back to Ngorongoro
Another early start as we headed back to Ngorongoro Crater. It was another long drive, but it gave me lots of time to reflect on the beauty we have witnessed throughout our trip. As we descend into the crater, we are told it's 100 square miles with very flat open ground so it's very easy to spot the animals. The emerald green vegetation in the background mixed with the black and white stripes of the zebras make this truly beautiful. Mau had another surprise in store for us as we spotted mummy rhino and baby rhino stood still in the distance. Although rhinos are large and have a reputation for being tough, they're a very solitary animal and are very easily poached. Humans are their only predator. We stop off at a hippo pool for a packed lunch, and here we could get out and stretch our legs down by the pool. This was a great opportunity to see the hippos close.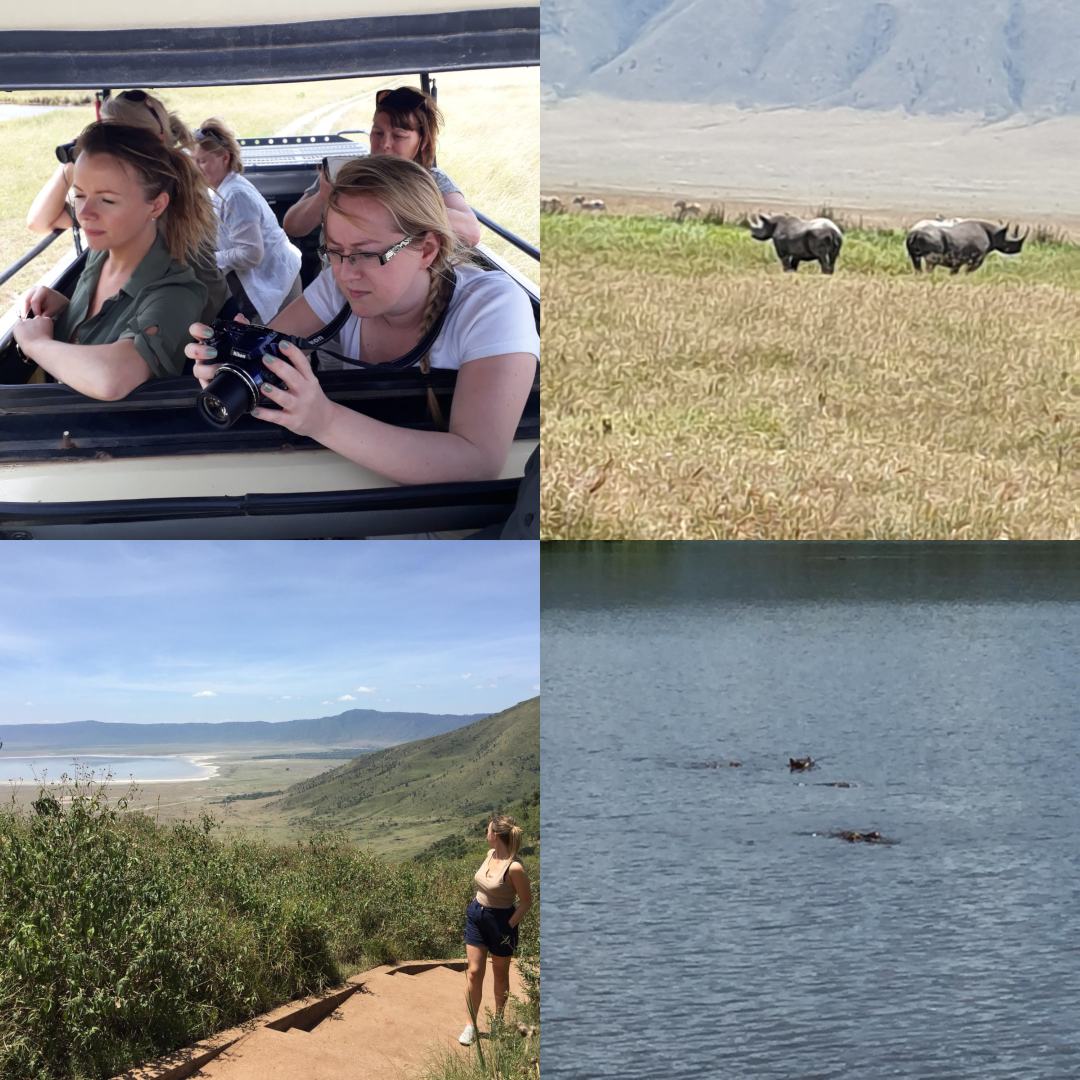 We stayed overnight in Ngorongoro Sopa Lodge. The 97-room lodge is positioned on the eastern edge of the UNESCO Ngorongoro crater, with stunning views. This property had beautiful views, friendly staff and good rooms. We even had a hot water bottle ready and waiting when we got back to our room. Evening meal was a fairly limited choice. We had a beautiful view from our room and a great shower.
Day 6 – Farewell Africa ☹
We had a five-hour journey to Arusha for our flight home, which was made quite fun with a famous name game David got us addicted to. We travelled with Kenya Airways to Nairobi which was a good 40 minute flight.
We arrived in Nairobi, purchased our visas and then headed to our Hotel, Hotel OLE Sereni, for our last night in Africa before our early flight home. This hotel was a very good standard four-star overlooking a national park in the city. From the bar area you could sit out and watch the animals. The rooms were excellent, and we were then surprised with an invite to dinner at the famous Carnivore restaurant. MEAT, MEAT AND MORE MEAT!!! Lol - but an experience nonetheless. This was an excellent finish to the trip as we had a comfortable hotel room, good shower, good beds, and a tasty breakfast.
Then sadly it was home time ☹ What can I say about Africa though? The most amazingly wild, authentic and beautiful place I have been! An African safari holiday certainly is a must-do and a once in a lifetime holiday that will leave you with countless memories and incredible photos to share on social media!
Having David from African Pride host the trip with his Africa and safari knowledge was first class, although I can't say the same about his jokes! A HUGE THANK YOU to African Pride for the opportunity to go on such a magical trip.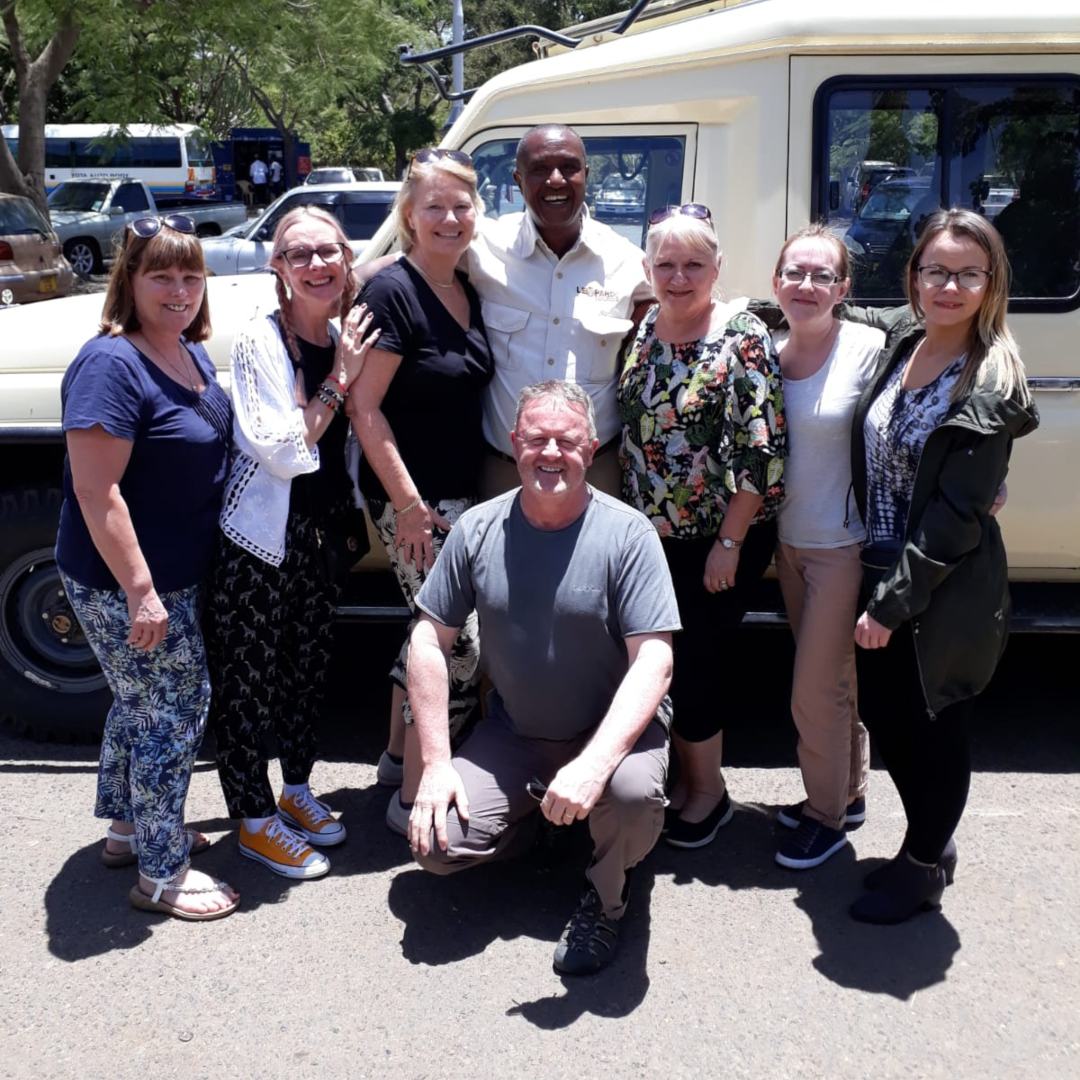 Lisa's Top African Safari Travel Tips:
When planning your trip to Tanzania – Keep an eye on the flight times as you will have to do a night in Nairobi. The airlines – Try to ensure you get Kenya Airways throughout as Precision air is a little basic.
Be prepared for long dirt roads which make for a rocky journey!
This type of itinerary can only be done with a guided driver, so it means it will be with a group or just a couple for more expense. You don't hire your own vehicle or self-drive usually.
The days are very long due to the early game drives in order to see as much wildlife before the animals rest during the mid-day heat so bring note books, a safari animal book to help you spot species, binoculars and even WINE GUMS - because you need a little pick me up out in the bush every now and again.
Watch out for tsetse flies while out on bush drive. They look like big flies and have a painful bite!
Some of the accommodation is very much an authentic safari experience, meaning sleeping in a tent and no air-con. This is a fantastic experience and some of the lodges are nicer than hotel rooms!
Take some dollars with you for tips and maybe a little shopping.
Make sure to try and take as little luggage as possible and in soft bags as it easier to fit in vehicles and carry around.